Born from within the smoldering remains of Unearthly Trance in 2011, UT members, bassist Jay Newman, drummer Darren Verni and vocalist Ryan Lipynsky (The Howling Wind) recruited guitarist Tim Bagshaw (ex-Ramesses, ex-Electric Wizard) to complete the SERPENTINE PATH lineup. Their crushing, self-titled debut full-length was referred to as "thudding death-doom that will have genre enthusiasts rolling their stoned skulls in graveyard genuflection" by Revolver, and "a contender for doom album of the year" by Decibel.
Now officially augmented by new second guitarist Stephen Flam, the mastermind behind NYC doom/death legends Winter, SERPENTINE PATH brings forth their most demoralizing and anguish-filled slow-motion chaos yet, with the newly-completed Emanations. As with their first album, Emanations was recorded by the band's Jay Newman, after which it was honed to devastating perfection at Audiosiege, the album capturing forty-five minutes of true sludge punishment with seven brand new songs from this true underground all-star team. Sure, the pedigree is undeniable, but regardless of their "members of" status, SERPENTINE PATH is one of the most scathing sludge acts on the planet.

Breaking two years of silence since the release of their self-titled debut album, New York City-based sludge metal executioners SERPENTINE PATH unleashes the band's disturbing second album Emanations, once again through Relapse Records. To unveil Emanations to the masses, The Obelisk is now exclusively streaming the new album from its dredging opening to its demoralizing finale.

Stream the entire album HERE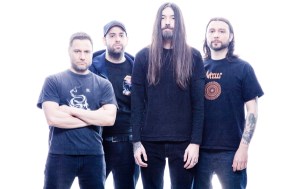 Talk a little bit about your band. For people who don´t know you.
Ryan Lipynsky: Serpentine Path is a heavy death/doom metal band based out of the New York city area. The band is composed of all members of Unearthly Trance, Tim from Ramesses and Electric Wizard and now we have the addition of Stephen from Winter on 2nd guitar. We started out as a project and now we sit here with our second album about to come out on Relapse Records. We aim to create the biggest, most massively oppressive sounds possible through guitar riffs drums and voice.
Why did you decide to Sludge?
R.L.: I think I can pinpoint the exactly reason I decided to sludge was when I saw Neurosis, Eyehategod and Unsane in NYC during the 90's. Life changing concert. Experiencing that form of heaviness blew my mind and knew then I had to sludge with my own band and eventually did sludge with Unearthly Trance's formation in the year 2000.
Did you have any influences in your life that made you decide to form a band ?
R.L.: I was playing guitar and listening to metal from a very early age. I always knew that it was my will to play and create music in bands. There was a desire to form a band in me even before I could play guitar properly. I have been in bands for over 20 years and I'm proud to say I wont stop until I'm gone.
You have 4 members, how did each of them come into the band ?
R.L.: We have 5 members. Me, Jay and Darren were in Unearthly Trance together. Tim was previously in Ramesses and Electric Wizard, two bands Unearthly Trance toured with over the years. Tim moved to the NY area from England and we decide to have a jam since he was an old friend. The rest is history. Stephen joined as he became friends with Jay and heard our first album. The idea came up for him to join on second guitar. As soon as we first rehearsal we knew it was going to be massive.
"Emanations" is out now, What Does Your new album Say About You?
R.L.: It says we are some dedicated [and a bit fucked up] individuals to devote our lives to playing extreme and filthy doom metal! We are just continuing down the path of the kind of music we have been playing for many years. Stephen and Tim especially!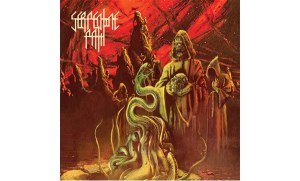 What have the reviews been like so far?
R.L.: The reviews have been overwhelmingly positive. People seem to really like this album and I think Relapse has done an excellent job promoting it. Very please to say the least.
Is There a tour in the horizon? And will you becoming to Europe?
R.L.: There is no tour on the horizon. Don't that we ever will to be honest. No plans for Europe but I have always loved playing there and it would be great to do again one way or another!
Who would you like to Perform with?
R.L.: Fleshpress! One of the most underrated bands in the "doom" realm of music. Much respect to them.
Which band have you most enjoyed sharing a stage with? Who would you most like to play with in the future?
R.L.: Since Serpentine Path is not much of a live band I will have to refer back to my old band Unearthly Trance and say that playing live with High On Fire and the Melvins has a career highlight. UT played with so many killer bands over the years and I feel very grateful for that. As for the future, I am open to playing with any bands that have a great sound and are cool people.
Have you got any interesting stories to share with your fans?
R L: Most of the crazy stories won't and shouldn't be shared in print or on the internet. haha We used to talk about doing a project together years and years ago with Tim. We just never thought it would actually happened.
Is there anything you would like to say to your fans in Europe?
R. L.: Thanks to anyone who has supported Serpentine Path and bought our records. We really appreciate the die hard people who listen to our brand of filth! Keep your eyes peeled and we shall see where this path leads!
FANI NADKI