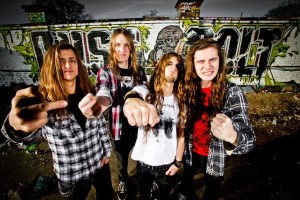 DUST BOLT will be hitting the road in January 2015 for an extensive European tour with OBITUARY!
The German shooting stars are back with a vengeance! "Awake the Riot" is the perfect example of how Thrash Metal should sound, and shows that DUST BOLT are already snapping at the heels of the Bay Area heroes. Highly explosive precision drumming, furious leads and solos plus fantastic riffs flying at the listener so intensely, that whiplash after the first spin of the album is guaranteed. "Awake the Riot" is an aggressive rapid-fire riff barrage that will take no prisoners!

Thrash Metal! Explosive and aggressive! Thrash 'em All!
Bene (bass) explains us many details from the band:
1. Introduce the band to the metal-heads who don't know you. (Start, present, future…)
We're Dust Bolt, a Thrash Band from around Munich, Germany. Dust Bolt was formed in 2006 by Lenny (guitar, vocals), Flo (guitars), Nico (drums) and me, Bene (bass), as a small school Band when we decided to change our band name and the project became more serious. We played lots of shows in Germany, released a demo and finally released our first record "Violent Demolition" in 2012 via Napalm Records from Austria and are currently touring our sophomore release "Awake the Riot". Dust Bolt is all about straight, old-school Thrash Metal without compromises that kicks your ass twice.
2. About Napalm Records...
Napalm Records is an independent Label from Austria and we signed our contract with them in 2012 when we released our first album "Violent Demolition". We´re really happy to be able to work with such a committed label like Napalm Records. They do a great job and it was a very important step in Dust Bolt´s career to have done such a good signing. We´re really really happy how things are going at the moment and Napalm does a great job! It´s the best thing that could happen to us.
3. What influences you most when you are composing? Is it only music or other things, too?
Life in general I would say. As a musician or a creative person in general, there is always inspiration coming to you and there are always creative things in your mind for which you feel the need to express them in some way. Dust Bolt is not a band preaching about beer, pizza and partying. The music comes from a really deep and emotional background I think, though it´s still old school Thrash Metal. For us it´s a way to express ourselves, express our friendship and our need to change something.
4. You're playing on many important festivals and touring with bands like Obituary, how do you feel about that?
We are really happy and grateful for those shows. Supporting your metal heroes and role models is always an extraordinary and great feeling. Especially with Obituary it is something special. We have met them several times throughout our young career and it has always been great because the shows were killer and the Obi guys are really awesome and friendly people. They have also been very supportive, giving their opinion on "Awake the Riot" and also getting us on this great tour through Europe, of course.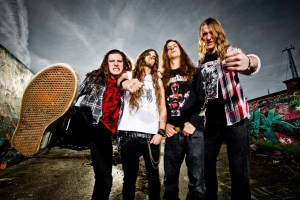 5. Do you have any plans for you first headliner tour?

We actually did our first headliner tour this year with mostly German locations but also some Switzerland, Austria and Czech Republic. It was a great experience to see so many people coming to Dust Bolt headlining shows.
6. Which band have you most enjoyed sharing a stage with? Who would you most like to play with in the future?
There are so many bands we love playing with. It is always fun playing with good friends from our area like Toxic Waltz or Battlecreek and it has been a great experience to support Sepultura in our home town Munich.
I can't speak for the whole band of course but i would like to support Iron Maiden some day ;)
7. What do you think about New Wave Of Thrash Metal?

It's great of course. It is so cool to see that so many young people still dig Thrash Metal and want to share their music with others. The old Thrash masters have deserved their status but I think it is time
for a new, younger generation of Metal-heads to bring Thrash to the next level.
8. If you need to choose any musician and band out of Metal music, which one would be?

As a bass player I would choose Steve Harris because he is the No1 bass player in Metal and as a band I would choose Suicidal Tendencies at the moment because their music and live performances have been very inspirational for me in the last couple of years.
9. Are you happy with the feedback for your work from press, fans…?
More than happy I guess. It has been overwhelming how good the feedback for Awake the Riot was. We just made it in Metal Hammer Germany's top 10 Thrash albums of 2014 as the only Newcomer next to bands like Exodus and Machine Head. This is something we wouldn't dream of just 3 years ago. And especially the people have been great. It was so cool to see so many coming to our shows and to party together. We want to say thanks to everyone who supported us in any way, may it be by coming to our shows, buying our stuff or just listening to our music. It is really motivating to get such a great feedback and it is what keeps us going.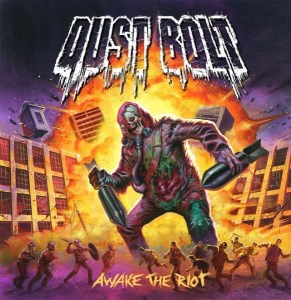 10. Do you have any festivals confirmed for this summer? If you could choose 3 festivals to play in, which would be?
We will play a lot of festivals this summer. To check out which, just visit us at facebook.com/dustbolt. One of the confirmed festivals is also one of our dream-destinations, the Summer Breeze Open Air. This is a festival we visited a couple of times when we were teens and we have a big connection to this festival. I would personally love to play Glastonbury because it is so huge and diverse and I would love to play Wacken 1999 ;)
11. Do you have any interesting stories you want to share with your fans?
Haha. Oh yeah I think we have lots of interesting stories to tell. Concerning funny on the road stories and some serious stuff. For the serious stuff it´s the best way to read our lyrics I think. Every song is some kind of a story.
But we experienced a lot together the last year! Especially on tour. We are all best friends in the band and also hang out together in our free time. Being on the road playing shows all around Europe is something we always dreamt of, which leads to a loooot of great stories ;)
12. Is there anything you would like to say to your followers?
Thank you so much for the support! Come to our live shows and help us awaking the riot!!
See you soon!
DxBxTxC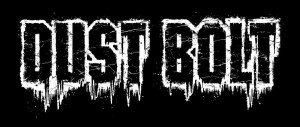 DUST BOLT LIVE - ON TOUR WITH OBITUARY!
Inked in Blood 2015
15.01.15 DE - Essen / Turock
16.01.15 NL - Alkmaar / Victory
17.01.15 DE - Bremen / Tivoli
18.01.15 CZ - Praha / Futurum
19.01.15 PL - Krakow / Fabryka
21.01.15 HU - Budapest / Dürer Kert
22.01.15 AT - Vienna / Szene
23.01.15 AT - Innsbruck / Weekender club
24.01.15 IT - Romagnano / R&R Arena
25.01.15 CH - Luzern / Schüür
27.01.15 SP - Barcelona / Salamandra
28.01.15 FR - Toulouse / Metronum
29.01.15 FR - Paris / Divan du Monde
30.01.15 NL - Enschede / Atak
31.01.15 BL - Turnhout / Zaal de kuup
01.02.15 UK - London / Underworld

WWW.FACEBOOK.COM/DUSTBOLT
WWW.FACEBOOK.COM/NAPALMRECORDS
WWW.NAPALMRECORDS.COM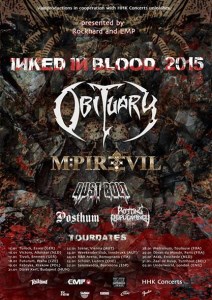 FANI NADKI