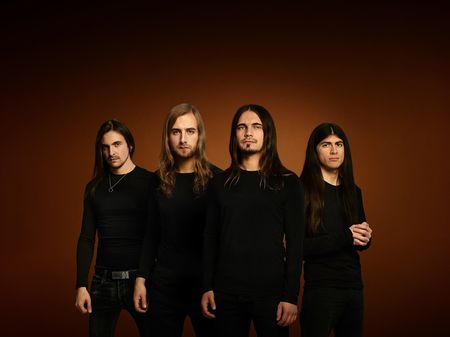 Founded in 2002 by guitarist/vocalist Steffen Kummerer, German progressive death metal band OBSCURA caused a stir when they - out of nowhere - toured as support for the legendary Suffocation on the band's European tour in 2006 and independently released their debut album 'Retribution' that same year. From its very beginnings, the has band (named after Gorguts' inimitable 1993 full-length) demonstrated an uncanny ability for blending different forms of technical, cerebral metal into a coherent synthesis of death, thrash and black metal merged with progressive elements.

Now, five years since the release of the band's universally-acclaimed 2011 release 'Omnivium,' the progressive metal masters are poised to return with their strongest and most dynamic release to date. The aptly-named 'Akróasis' (Greek for "hearing" or "listening") draws on all the various elements of OBSCURA's signature sound and combines those qualities into a cohesive and mind-blowing whole. Produced by the band and V. Santura (Triptykon, Pestilence), 'Akróasis' is eight songs diverse enough to serve as a near-comprehensive introduction to all of extreme metal. Packed to the gills with virtuosic musicianship, compelling themes, and airtight songwriting, 'Akróasis' will undoubtedly breathe new life into death metal, progressive metal and beyond.
First of all, for all the people who don't know the band, introduce yourself.

Hi! I am Linus Klausenitzer, fretless bass player of the German Technical Death band Obscura.
Founded in 2002 we released 4 albums and toured around the world with bands like Cannibal Corpse, Nile, Suffocation, Death To All, The Black Dahlia Murder and Children of Bodom.
Now, five years since the release of our album Omnivium, we have just released a new studio album called Akróasis.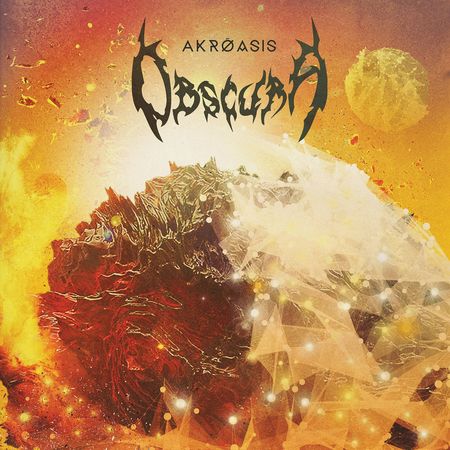 Your new album, "Akróasis" is the most melodic one of your discography, are you happy
with the result?

This is true. We tried to make the album more dynamic in general. More space to breathe
after technical parts, more hard riffs but also more clean parts and melodies.
It was a long way but now I am very proud about the new album. In my opinion we really
created something unique.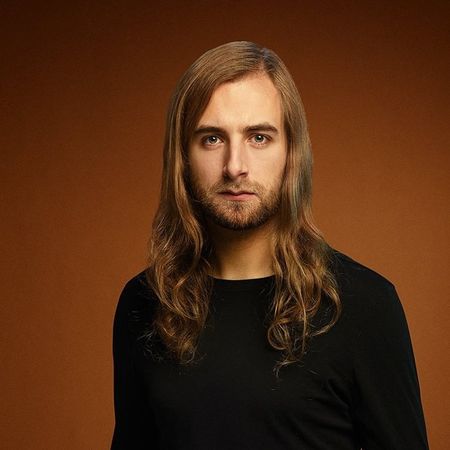 "Akróasis" is your fifth album, (I consider "Illegimitation" as a studio album) which one is
your favorite album from your discography? Why?

Once I read a good interview of Lemmy, he said that choosing your favourite album is like
choosing your favourite child. It's not possible to rate them for me. I would need some
distance to the band to have a more objective opinion. Right now I love every album because
all of them had an positive impact on the band's career.

The song "Weltseele" is the longest one of your discography, have you ever before thought
about doing a long song like that? (It reminds me to Opeth.)

I don't think so. This time Fountainhead said in the beginning of the songwriting process
already that it was one of his dreams to write on a long track like this. It's very difficult to
keep a song interesting for 15 minutes. I think it worked out very well and I am super happy
with the result.

Talk about your relationship with Relapse Records.

Without the help of Relapse we wouldn't be where we are right now. They have a very
important role in building up Obscura. They support us on a very personal level and try to
help us in any way.
Right now they make an amazing job promoting our new album Akróasis – as usual.

Have you ever thought about working more extreme genres? Such as Technical Brutal
Death Metal. (I'm talking about introducing more influences in your music)

It happens very rarely that we try to bring elements from other existing genres into our music
intensionally. Of course we have a lot of influences that you can hear but we only bring them
into our music because they are part of our musical personality. Nevertheless I like when a
band comes up with something new on purpose. This is what we tried with the fretltess guitar
on Akróasis but we don't want to copy a style from a band that is very close to our genre. I
think bands like Defeated Sanity are better in being brutal than we ever could be.

You have confirmed a tour with DTA for next April, is it closed? Or is there any possibility
of adding new dates?

It is the tour routing of DTA and it's fixed unfortunately. But we plan to play a lot of other
shows as well this year.

What about a tour as headliners? Which band would you choose as support bands?

For Omnivium we played a lot of headlining tours with amazing packages already. It will be
difficult to top this.
Right now we're planing a headlining tour in Europe for autumn 2016. We are collecting
ideas at the moment. We have different bands in mind. I like the idea of touring with bands
like Fallujah or Beyond Creation. Let's see. I hope we can come to Spain this year.

It would be great if you did tour on the Iberian peninsula, so much better if you come
closer to us: San Sebastian, Bilbao ... Would you like it? Have you ever played in the Basque
Country (Spain)?

Sounds great to me! I have never been to this part of your country. I don't know if Obscura
was there before I joined the band though.

What do you think about metal scene nowadays? (Talking about underground genres like
Death Metal)

Thanks to the new label structure, home recording and internet we have a huge list of new
bands out there. Especially the internet changed everything for metal subgenres. A band like
Obscura would never be big by selling physical album in only a small group of countries like
it was normal 20 years ago. Thanks to social media people from all around the world know
us.
To me it seems that the gap between underground and commercial music is getting bigger.
One group of people doesn't have a big interest in music and is listening to radio because it's
the most comfortable way to consume music. The list of big acts in music industry is way
smaller than some years ago. This makes it even more easy for those people to follow trends.
The other group of people has a huge amount of songs on their hard disks or they stream
music. Those people get an own musical identity listening to a lot of independent artists.
I like this a lot. This way a lot of very interesting new metal bands can gain listeners.
With streaming platforms people have finally a way to listen to tons of songs legally in a
comfortable way. People are starting to you use less illegal filesharing and stop listening to
the terrible sound quality of most songs that you can find on YouTube. The only problem is
the value of music in our society. Streaming platforms make music appear like fast food. It's
hard to understand that I have to pay 18 EUR for a CD but I can stream millions of albums
for 5 EUR a month.
The metal scene is very loyal though. They know about the value of music. They support
crowdfunding campaigns and buy CDs because they know this support their favourite bands
best. To me the metal scene in the best music scene of all.
Something else to add, any advice for musicians which are starting playing now?
Learn the basics and then play live as much as you. This is what makes you learn faster, it's
fun and people start to talk about your music very early.